病嬌模擬器 是一個開發中的隱蔽類電子遊戲,並由一個名為YandereDev的人在許多志願者的幫助下製作。他過去曾參與遊戲的開發[1],並因4chan[2]上積極的正面意見而決定開發這款遊戲[3]。
截至2015年12月,病嬌模擬器 的下載量近500萬次。[4]
遊戲操作方式在這裡。
遊戲可以在這裡下載!
遊戲名稱
病嬌模擬器(Yandere Simulator) 也許會被重命名為"LoveSick"或"LoveSick: Yandere Simulator"。這是因為"yandere(病嬌)"的字面含義非常近似於"LoveSick(苦戀)"。但遊戲更名還需要很長的時間醞釀。[5]
這在影片"Should Yandere Simulator be renamed?"中進一步詳細說明。 模擬器類遊戲通常是幽默和輕鬆的,所以人們可能會認為Yandere Simulator 也是如此。YandereDev不希望它被誤認為一個輕鬆的遊戲,但由於原來的名字已經使用了這麼久,人們會認出它。作為妥協,他可能會改名為"LoveSick:Yandere Simulator"。
YandereDev 也曾經考慮過名字"Sick Love",並可能會舉辦一個關於它的投票。[6]
因為已有其他遊戲的標題使用"Yandere",因此YandereDev希望避免使用這個字。[7]
贊助商
Credits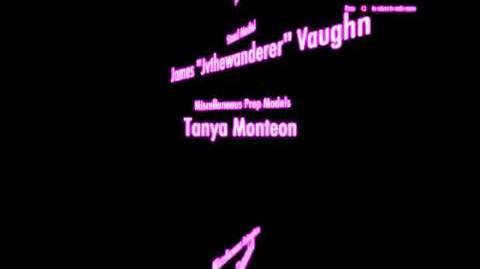 As of the Febuary 8th, 2016 Build, there are credits for those who have volunteered or have contributed with any asset. The ending screen is a reference to the credits screen of End of Evangelion.

Ayano Aishi, Ryoba Aishi, Fake Club Leaders: Michaela Laws

Male Senpai: Austin Hively

Info-chan: Cayla Martin

Budo Masuta: Patrick Seymour

Laptop Girl: Amanda Lee

Teacher: Rachael Messer

Choking Kokona: Hayden Daviau

Generic Male Student: Alejandro Saab

Journalist: Bradley Gareth

Midori Gurin, Kokona Haruka, Saki Miyu: Momoki

Dying Male Student: Akane Sasu Sora

Guidance Counselor Model, Miscellaneous Models, Hair Models: Druelbozo

School Environment Models: Angus

Stand Model: James "Jvthewanderer" Vaughn

Miscellaneous Prop Models: Tanya Monteon

Miscellaneous Animations: Yosua Sinambela

Miscellaneous Animations: Sean McSheehan

Struggle Animation: Joel Smith

Background Music: Henry Rofkar

Credits Theme: Jayn

Sound Design Assistance: Caleb "Ominary" Yu

Manga Cover Artwork: Yessenia "Mulberry" Taylor

UI Artwork: Jacob Judge

Programming Assistance: Saracen

Lead Programmer: YandereDev

發布日期
Not including the coding (which is completed by YandereDev alone), almost all features, such as voice acting, 3D animations, 2D animations, texturing, and modeling, are done by volunteers. Because of the unpredictability of volunteer work, as well as changes in game developing decisions, it is impossible to predict exactly when the final game will come out. YandereDev talks about Yandere Simulator's future in a video titled "Yandere Simulator: Past, Present, and Future" that the game may come out sometime in 2019.
It's difficult to determine how much of the game is finished at any given time. Some features that seem complete may be redone later, or a new feature may be suddenly planned. It's also hard to quantify how much 'completion percentage' a specific feature adds to the game.
The reason why the in-game percentage is there in the first place is to dissuade people from asking about why certain aspects of the game are missing or currently incomplete. "If they see text informing them that the game is very far from being complete, this should stop them [from doing so]."模板:Fact The percentage goes up so that people understand that the game is progressing forward.
Downloading
Ever since the early debug testing builds, the only way to download Yandere Simulator was through a .ZIP file on Mediafire from YandereDev's blog. As of May 27, 2016, there will now be a launcher. The launcher will perform an integrity check to make sure that the player's download was not corrupted, and then automatically unzip the files for them.
Intros
There have been two intros for the game, both giving some immediate backstory. Both are featured from Yandere-chan's perspective.
The first and original intro told the story of Yandere-chan as an average teenage girl who yearned for love and found it when running to school. Her ideal lover, Senpai, was being scolded by Osana Najimi who was his tsundere childhood best friend. Info-chan informs Yandere-chan about how she can help Yandere-chan get rid of her rivals and about panty shots. The intro ends with Yandere-chan thinking of her Senpai.
The second intro showed Yandere-chan as an emotionless girl who found color in her gray world after meeting Senpai. Yandere-chan expresses negative thoughts towards those who get in her way. Info-chan informs Yandere-chan about her first rival and the panty shot system and once again, the intro ends with that.
Gameplay
In Yandere Simulator, the protagonist has five days to prevent her current rival from confessing to Senpai. The final game will be ten weeks long and will have ten rivals, with one appearing at the start of each week. The demo will only show the first week of the game.
武器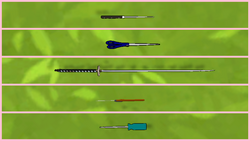 武器是玩家殺死NPC的主要工具。
At least thirty weapons are planned for the game, but YandereDev has confirmed that they will only be things that can be found in a Japanese school environment.Guns and ranged weapons are unlikely to be added to the game.
學生性格
Personas determine how an NPC responds when they witness a murder or see a 屍體. In the future, it's possible that personas may dictate voices, animations, dialogue, etc.
目前實施了7種性格:
理智

Killing, tranquilizing, pushing, drowning, and dismembering an NPC will cause Yandere-chan's true nature to show through.
When the player has low sanity, the music and environment become more distorted. In the future, sanity will affect how long and how messy Yandere-chan's kills will be.
If a student catches Yandere-chan with low sanity, her reputation will drop. If a teacher catches her with low sanity, she will be expelled. If Senpai catches her with low sanity, she will be heartbroken.
聲望
Yandere-chan's reputation is how she is viewed by the students. If her reputation goes below -100, Senpai will no longer be willing to accept her love confession, causing an instant Game Over.
Reputation can possibly be raised by complimenting students, and lowered by gossiping about others. There are other ways to change reputation, but not all methods have been implemented yet.
This mechanic partially determines how other people will interact with the player character. In the future, delinquent students might only interact with the main character if her reputation is low.
手機
Yandere-chan's phone, which will not be present in 1980s Mode, can do a number of actions for the player, such as:
拍照
查看NPC消息
Request certain Panty Shot Favors
Yandere Vision
Yandere Vision shows important objects outlined in certain colors through walls. Some objects, like buckets, have outlines by default, but others need certain actions to be performed before being outlined.
Yandere-chan can take and send a photo of an NPC with a working AI to Info-chan so that the NPC will be outlined in a certain color, with the default being green. This color can change if the NPC is affected by certain events.
學習點數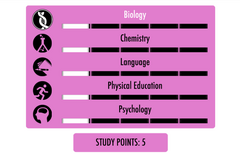 學習點數可以用於從生物獲得技能,化學,語文,體育和心理學。大多數科目的影響還沒有被執行。
主角收到學習點數的數量取決於她去上課的時間。如果她早去上課的時候,她將獲得5點的學習點數。如果她晚出現,她將獲得一至四個學習點數,學習點數的多少取決於她甚麼時候去上課。如果病嬌醬穿的是可以獲得雙倍的學點數的內褲,病嬌醬就可以獲得雙倍的學習點數。
遊戲結束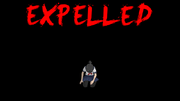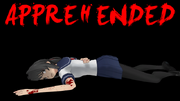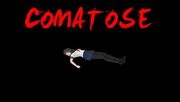 If Senpai notices Yandere-chan when she has blood on her uniform, appears visibly insane, stands in his line of sight for too long, or does anything suspicious, the "Heartbroken" version of the Game Over screen will be displayed. If the player reaches the end of the week in a debug build, they will get a Heartbroken Game Over.
If a teacher sees the protagonist when she has blood on her uniform, appears visibly insane, or is generally acting out, the teacher will scold her and the "Expelled" version of the Game Over screen will be displayed.
If a teacher sees the protagonist connected to a murder, the teacher will pursue her. If the teacher catches up to her, she will get an "Apprehended" Game Over. Currently, this will also happen if the protagonist attempts to kill a teacher. If a Heroic student pins down the protagonist, there will also be an "Apprehended" Game Over.
If the police can link the protagonist to a murder, she will get the "Arrested" version of the Game Over screen.
If the player attacks a delinquent, holds a weapon near them for too long, kills a student in front of them, or drags a body in front of them, they will hit her hard with their weapon, causing her to fall into a coma.
Running around nude will not get a Game Over yet.
計畫中的模式
Story Mode: In this mode, Yandere-chan is the protagonist. The player will have to eliminate ten rivals over the course of ten weeks.
1980s Mode: In this mode, the yandere from 1989 is the protagonist. She appears in the Mysterious and Basement Tapes. Like Story Mode, the player will have to eliminate ten rivals over the course of ten weeks. However, school rules will be stricter, and there will be no internet, smartphones, or Info-chan.
Scenario Editor Mode: The player can customize the rivals, school, and even individual students.
Endless Mode: The game will randomly generate a rival; the player will then have to stalk Senpai to identify the newest rival girl and eliminate her. The objective here is to achieve the highest score, rather than have the main character properly confess her feelings.
Trivia
Once the game has reached a more presentable state, YandereDev will make a Kickstarter and put the game on Steam Greenlight.
YandereDev plans to use Kickstarter because Kickstarter is more widely-recognized than other crowd-funding campaign sites.
The first Kickstarter stretch goal will likely be to repay the volunteers for all the valuable work they have done. The second goal would then be improving production values and adding more features.
If the Kickstarter raises a lot of money, then an expert character modeler could build a schoolgirl model with adjustable hips, butt, and thighs.
If the Kickstarter gains a ludicrous amount of money, YandereDev would love to have an opening sequence, an OVA, a commercial, etc.
YandereDev would like the game to have an opening cutscene. He is imagining something similar to Madoka Magica's opening, Touhou Project's song Bad Apple, OR Kiss me Ashiteru by C-ute. He is not sure how the final song will turn out.
As of October 2015, Yandere Simulator has over 10,000 lines of code. The script that governs student AI is 3,924 lines long. YandereDev would like to reduce this number drastically.
More story will be added to the game, but it is a low priority for the purposes of a debug build.
If Yandere Simulator were to have a sequel, the goals would be to have better graphics, better animations, more rivals, more elimination methods, a deep story instead of a deep backstory, fully animated 2-D cutscenes, many environments, and multiple playable protagonists.
YandereDev stated in September 2015 that it is unlikely that Yandere-chan will not be able to disguise herself as another character, because that would be too close to plagiarizing Hitman.
The amount of space Yandere Simulator will take up when completed is most likely 25 GB max, 10 GB minimum.
YandereDev would like Yandere Simulator to be as challenging as a good Hitman game.
There will be no health bar, but it is possible that a "kendo sparring match" mini-game will be implemented.
Much of Yandere Simulator's music has been composed by a man named Henry Rofkar. He is a musician from the band "Only Wednesday."
The only way Yandere Simulator would be cancelled was if the entire Internet simultaneously stopped caring about Yandere Simulator, a doctor told YandereDev he had only two months to live, or a meteor.
YandereDev wants nothing in the game to be random and wants no advantages or disadvantages based on luck or chance so that speedrunners can develop strategies and/or tactics. However, there was once a mention of a "Random Mode".
The models of Yandere Simulator were bought from the Unity store. It's possible that there will be original models in the future.

YandereDev believes that the current base model is unsatisfactory, but to implement a new one would be very time-consuming.

YandereDev would like to implement quicksaves into the game if he learned how.
YandereDev wants to avoid adding too many supernatural features. Eventually, both the silly and supernatural will only appear in the game if the player takes certain steps to unlock them.
In June 2015, YandereDev got an offer for Yandere Simulator from a publisher/developer, but it was not appealing to him.
In the future, Yandere-chan will be able to kill 99% of the NPCs in the game, but there will be one or two exceptions to this rule.
There will only be weekends in the game if a small town is added. Weekends could be used to get extra study points, but having a small town would open more options.
The game is banned from Twitch for unknown reasons.
Most of the game's current graphics are just placeholders.
Adding quick time events would greatly increase the number of animations required for the game.
The game will most likely not have certain "survival" features such as hunger.
YandereDev does not want to include weather into the game.[8]
YandereDev is considering locking doors as a gameplay mechanic that can be used by the player or the NPCs.
YandereDev uses the font "Futura Condensed Medium" for pink dialogue.
Gallery
引用錯誤:<ref>標籤存在,但沒有找到<references/>標籤
您使用了廣告過濾軟體!
Wikia通過廣告運營為使用者提供免費的服務。我們對通過嵌入廣告過濾軟體訪問網站的使用者進行調整。

如果您使用了廣告過濾軟體,將無法使用我們的服務。請您移除廣告過濾軟體,以確保頁面正常載入。